This is the first of many blogs I'll be posting, but please bare with me as I'm new to all this. 
Last month the AIPP held it first ever online competition, The Silver Lining Awards. It was such a huge success with nearly 3000 entries from across Australia. Two of my images made it to the semi finals (top 25) in the Life and Celebrations categories. Then one of those images moved on into the finals (top10). The announcement of the winners, top 5, were held live via Facebook. It was very nerve reckoning and exciting, but unfortunately I didn't make it through. The winning images were outstanding though, tough competition from some amazing photographers. Below are my images that made it through with a short description.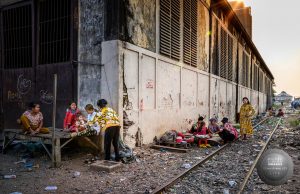 This image was taken in an urban poor area in Phnom Penh, Cambodia. These locals live on the tracks near the abandoned rail sheds. They don't have a lot and the pollution is extreme, but they seem oblivious to it as they go about their day enjoying each others company. The women wear bright coloured clothing as if to brighten their day in such bleak surroundings.
This image made it through to the finals in the celebrations category. I took this while on a trip to India in 2019 with Venture Photography Tours. This was taken during the Aarti celebrations in Varanasi. I spotted this man praying amongst the cheering crowd. He seemed deep in thought while others around him were chanting and singing to the rhythm of the music.
You can see all the winners of the Silver Lining Awards here: https://aippawards.com.au/silverlining/sla-results/
Also these past weeks the NZIPP Iris Awards were judged. This year with all that was happening in the world they also decided to opt for an online competition. Once again entries exceeded their expectations. AIPP members were able to enter and of course I did. Entering 6 images into the Travel category I was very pleased with my results receiving 2 silver distinctions and 4 silvers. As a first time entrant I was over the moon. You can see below my results but if you want to see more amazing images the winners of all the categories will be announced next Monday 14th September,  and you can see them here:  https://irisawards.com