Well, as some of you know my family and I have moved to Barcelona for a while. It was a big move and one that definitely did have its dramas. Covid obviously caused major set backs, making it hard for us to organise and set dates. Our original plan was to leave in early June this year, but that soon changed. With my daughter already in Barcelona we decided to bring her home because of the lock down laws in Spain and stay in Aus a bit longer. So a few months later and after packing our lives into boxes and obtaining permission from the government to leave Australia, we said our farewells to family and friends 😢 and finally got on the plane and set off.

We have now been living in this beautiful city for over a month and we are loving it. Life here is quite laid back, with everything shutting down at 1pm for siesta for 4 hours and then back to work at 5pm till late, got to love that! So, if you need anything done, it's mostly done after 5pm. Tapas and wine flow everyday with locals gathering in side walk cafes and restaurants, just because they can and dinner here is late. It is common to see many restaurants full here at midnight or people just walking into them at 11pm for a bite to eat and a glass of wine. What a lifestyle!

The language barrier is not so bad with most people able to speak a little English, but we are slowly learning their language and our favourite phrase, 'Habla Inglés' (do you speak English?). It will take some time to grasp it. It's not as easy as you think. In Barcelona they speak both Spanish and Catalan, so in some districts it's Catalan and the pronunciation of some words are different 😬😬 but its something that will take time and persistence.

Moving around Barcelona is done mostly by walking, buses or the metro. Seriously it's faster to walk than to drive here, So, I've clocked up a lot steps! I think that's why everyone looks so fit and healthy.

Covid restrictions are in play with compulsory wearing of masks while out and about and every shop has hand sanitiser which you must use before entering and there are limits to numbers in groups when sitting in bars or restaurants. Other than that you can move around freely with safe distancing.
We have some official formalities we have to sort while staying here like obtaining our residency and so forth.  So at the moment our main priority is to secure an apartment for at least 6 months to prove that we are definitely living here and not on a holiday. Although at the moment they are not allowing any tourists outside of Europe into the country. I barely made it in but that's another story.  We are currently in an Air BNB close to everything and about  20 minutes walk to the centre, Plaza Catalunya. From there you can walk to the famous Gothic Quarter which dates back to  2000 years, with its cobble stoned alley ways and boutique shops and restaurants and art galleries. It is very captivating. Quite honestly Barcelona is an easy city to get around in. It's just remembering where you are as every corner looks the same. Thank goodness for google maps!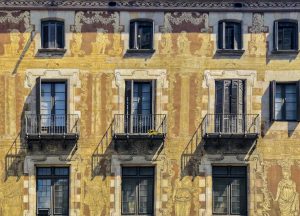 We are loving that we have everything at our door. Across the road is a large fresh market where they sell all types of sea food, fruit and veg, meats, grains and rice as well as sweets and wine, plenty of wine! Below that is a fairly equipped supermarket and out our door and down the street are local shops and cafes. So we don't need to walk very far for anything, I've even booked into the hair dresser which is right next door, so we'll see how that goes. Barcelona magnífica!!
Thank you for reading, I hope you follow along with my travels, in the next post I'll share with you my visit to Sagrada Familiar!